WATCH: Lady Gaga appears at pride rally in Tribeca
JUST ADDED: 5 Seconds of Summer will be rocking the stage at this year's iHeartRadio Music Festival Village in Las Vegas! The band sat down with Ryan Seacrest to break the news. Click here to buy your tickets now, before they sell out!
Listen to Lady Gaga on iHeartRadio
Native New Yorker Lady Gaga sang for a jubilant crowd at the official kickoff of NYC Pride events. After laying low since her hip surgery this winter, the megastar took the microphone at Friday night's Rally at Pier 26 in Tribeca, with her own rainbow-twist on the Star Spangled Banner.

Gaga, a longtime supporter of the LGBT community, also gave a heartfelt speech. She celebrated this week's Supreme Court rulings and noted how the civil rights movement was "born to survive."
The city's Pride festivities continue with several events tomorrow. The annual Pride parade steps off at noon Sunday, from Midtown along 5th Avenue to the West Village.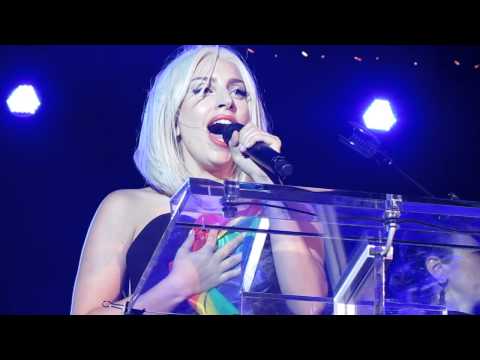 Photo Credit Getty Images