WATCH: HAHA Eminem Hits ESPN!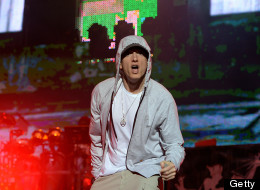 Eminem made a pretty funny appearance on ESPN's "Saturday Night Football" halftime show....
He was there to promote his new single and video "Berzerk" and is seen with Brent Musburger and Kirk Herbstreit with his mouth hanging open looking very confused. Haha! :-)
His "MMLP2" drops Nov. 5.